Welcome to Manistee Middle/High School!
All District buildings will be closed due to a statewide directive for school closure, beginning the end of the school day Friday, March 13 extended through the end of the 2019/20 school year.  
Please understand that the closure impacts all district resources. Building entry will be strictly prohibited, which will include access to all interior and exterior athletic facilities. No activities, no coaching, no practices, no games, nor inside or outside use of facilities will be allowed at this time. This directive will be in place until the state order is lifted.
In an effort to help our student and families during this school closure, we have created a resources page that will be regularly updated with information and links to assist in many ways. Click the resource button below.
By making positive choices, striving toward personal goals, and supporting each other, we all make a difference in the world around us. We inspire each other to dream more, learn more and do more.
We are equipped with the knowledge and values necessary to become productive and successful citizens of our world. With respect, dedication, and integrity, we work as a community to reach our highest potential.
Chips Lead!
Welcome 6th Graders!
This year we are unable to do our traditional Move Up Day activity for the 5th graders moving up to 6th grade at Manistee Middle High School.  So we wanted to do the next best thing and take you there virtually! Our 6th grade staff welcome you to MMHS for the 2020/21 school year in the video below.
Personal Item Pick Up
We have made arrangements with each of the school buildings for the collection of personal items left behind by our students.  Janitorial and administrative staff will be collecting personal belongings from lockers and classrooms, bagging and marking those items and making them available to families during times scheduled below.  If you are unable to pick up your items during these times, please reach out to your student's teacher so that we are able to make alternative arrangements.
Manistee Middle High School
Pull up to main entrance along drop-off drive to designated area.  Remain in your vehicle and a staff member will approach your vehicle to learn the name(s) and/or locker number(s) of your student(s).  The items will be brought to your vehicle.  If your student shared a locker you made need to sort on a table provided.
Pickup times on each of the days below are: 9:00 am until 11:00 am & 3:00 pm until 6:00 pm. PLEASE do not come between 11:00 am and noon, as this is our time for community meal distribution.
June 2 – 6th/7th grades
June 3 – 8th/9th grades
June 4 & 5 – 10th/11th/12th grades
Food Services During School Closure
Manistee Area Public Schools Food Services Team working in conjunction with the Michigan Department of Education will continue to provide the Grab & Go nutrition program available to all students of our community ages 18 and under through June 30th.  We are currently awaiting details regarding the Summer Feeding Program that is anticipated to follow the current nutrition program beginning in July and will provide an update once the details are finalized. 
Any family in the Manistee community with students 18 and younger are welcome to come to the Manistee Middle High School from 11:00 a.m. and 12:00 p.m., Monday through Friday to pick up bagged breakfast and bagged lunch meals free of charge. Those interested are directed to pull through the designated pick-up/drop-off lane at the main building entrance. Food services representatives will meet vehicles curbside with bagged meals for the number of student meals needed. Friday food service will also provide meals to feed students through the weekend.
These meals will be provided following the nutritional requirements of our Summer Feeding Program and will consist of cold food items including an entrée, vegetable, fruit, and milk with each meal. Hot food will not be made available during this time, due to time and temperature safety requirements for foods served. Meals are able to be picked up for students that are not able to be present. 
We are continually seeking ways to support our MAPS students and families and are grateful for this opportunity to serve our community by providing expanded food services. This essential nutrition program is made possible in cooperation with the Michigan Department of Education and the kindness of our dedicated food services staff that will serve our students through this unplanned school closure.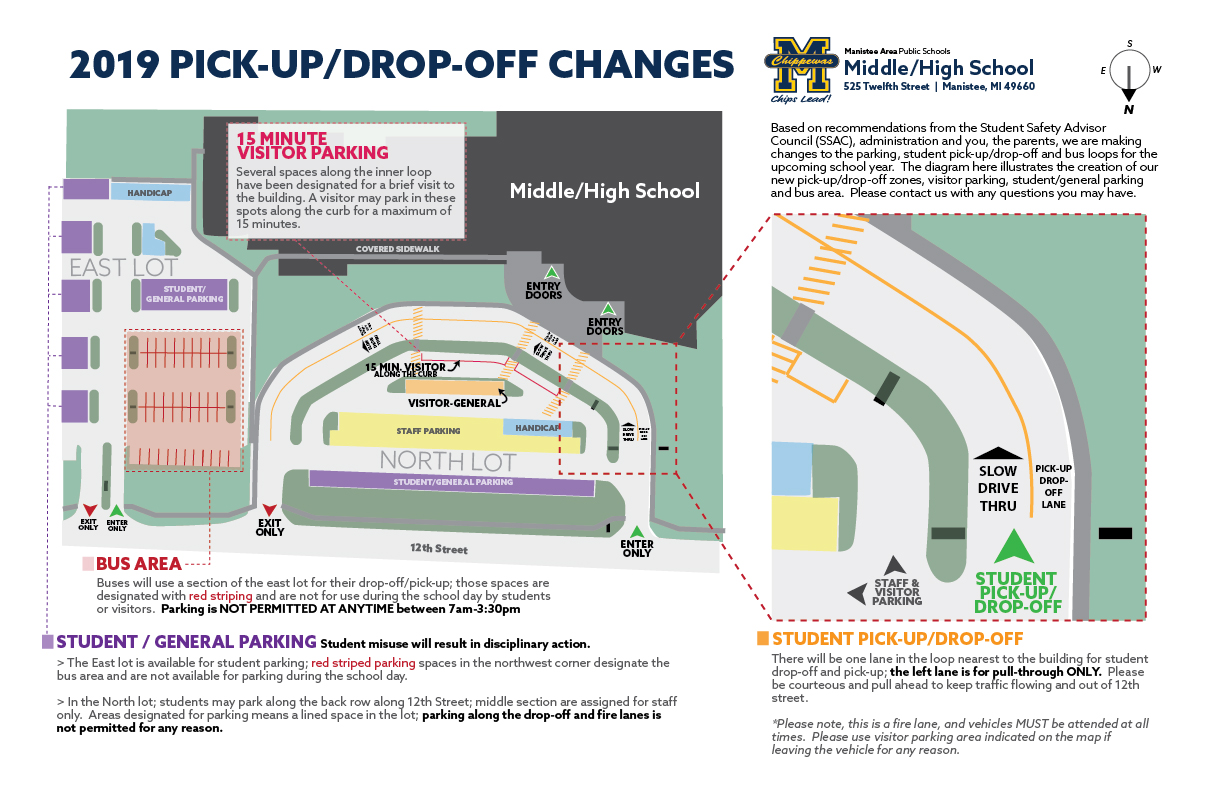 Based on recommendations from the Student Safety Advisor Council (SSAC), administration and you, the parents, we are making changes to the parking, student pick-up/drop-off and bus loops for the 2019/20 school year. The diagram here illustrates the creation of our new pick-up/drop-off zones, visitor parking, student/general parking and bus area. Please contact us with any questions you may have.
The MHSAA has a new physical form and here are the details: If you have a valid physical on file for the 2019-20 school year (completed on or after April 15, 2019), that will be valid if you are able to answer "No" to each of the 14 questions on the front of the form....
read more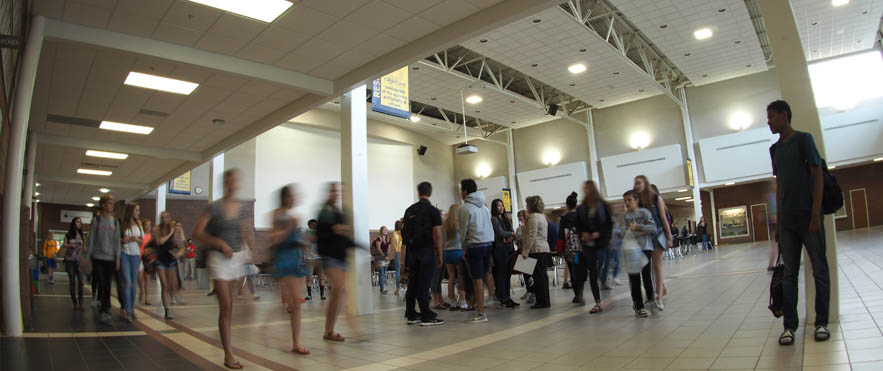 Your Chippewa Journey Continues at MMHS
Our goal at Manistee Middle/High School is to provide the utmost in educational opportunities for our students – utilizing both our state-of-the-art facilities and outstanding staff. Whether leading a host of challenging classes or providing support systems to meet the needs of every student, we strive to do it the Chippewa way – the right way – every day. We look forward to another great year of traditions in academic excellence and exciting activities!  Our commitment to exceeding expectations continues to make Manistee Area Public Schools the district of choice.
Chips Lead!

As Manistee Chippewas, we are all leaders in our own way. Chips Lead at school, with friends, and in the community by developing healthy relationships, using responsible decision-making and respectful communication.
T | TRUSTWORTHY — Chips are reliable, honest, and dependable
R | RESPECTFUL — Chips are considerate of the beliefs and opinions of others
A | ACCEPTING — Chips welcome diversity without judgment
C | COOPERATIVE — Chips work together towards common goals
K | KIND — Chips are thoughtful, helpful, and appreciative
---
"TRACK" is the Manistee Area Public Schools global, district-wide, leaders platform that all educators, staff and students follow throughout their Chippewa Journey.  This initiative is connected to course curriculum,  extra curricular programs,  disciplinary procedures, and internal culture.

Academic Opportunities
One-to-One Device District
Designated Apple School
National Honor Society
Honors & Advanced Placement Courses
Tutoring
Community Job Shadowing & Mentorships
WSCC Career Training Opportunities
Advanced Placement Classes
Dual Enrollment
Forensics
Science Olympiad
Quiz Bowl
Adventure Learning – Overnight Field Trips
Personal Challenge Program
Peer Listening/Mentoring
Math Counts Competition
Extracurricular Activities
JV & Varsity Sports
Choir
Marching Band
Jazz Band
Gender & Sexuality Alliance
Theater Productions
Dance
Powerlifting
School Dances
Homecoming
Winter White Out
Youth in Government
Cheerleading
Swimming Pool
Foreign Language Clubs & Trips
Social Clubs
Parent Involvement
Become a partner in your student's education!
The first place you'll notice our commitment to excellence is right here on our outstanding web page. Please review our MMHS Resources page for tools to support you as a partner in your student's education. You will also want to make sure you have set up an account for PowerSchool.  This interactive tool lets you see what and how your student is doing in every single class, and is a quick and easy way to communicate with all teachers. For graduation requirements, academic information, building and athletic policies and more visit our MMHS Handbook page to review Student Handbook. Information.
For a look at our seasonal sports schedule, click on the Activities tab on the top.  Also, make sure you refer to our Announcements tab at the top of the page.
We would also like to remind both students and parents of our student email accounts.  You can expect the office and other MHS groups to increasingly send information using these accounts. Students may check their accounts utilizing the school network, clicking on the link on the MMHS Resources page.
Finally, be sure to check out one of our favorites – our Featured Alumni link located in the Alumni tab above.  Here you'll see stories of past students who help to generate our Chippewa Pride every day. We continue to be proud of the great things our students achieve beyond MHS.  If you know of an alumni who should have his or her story told, please e-mail us at ahuber@manistee.org or jtraviss@manistee.org.