REQUEST FOR PROPOSALS (RFP)
Jefferson Elementary School Property
515 Bryant Avenue Manistee, MI 49660
PROJECT INQUIRIES
Any inquiries shall be in writing and directed to Howard Vaas, Business Manager by mail to the District's Central Office, 525 Twelfth Street, Manistee, Michigan 49660, or via email at hvaas@manistee.org.
RFP VIRTUAL MEETING 
In order to provide an opportunity for all interested parties to ask questions regarding the RFP, MAPS scheduled a virtual meeting for potential applicants to meet with MAPS Administration and a representative from the Spicer Group for a Q&A session. This meeting was held on February 13. A link to this presentation is shared below.
The proposal guidelines indicate that the building will be removed by the district prior to relinquishing the property. Because the building is slated to be removed before the property is relinquished, an onsite meeting for inspection will not be scheduled.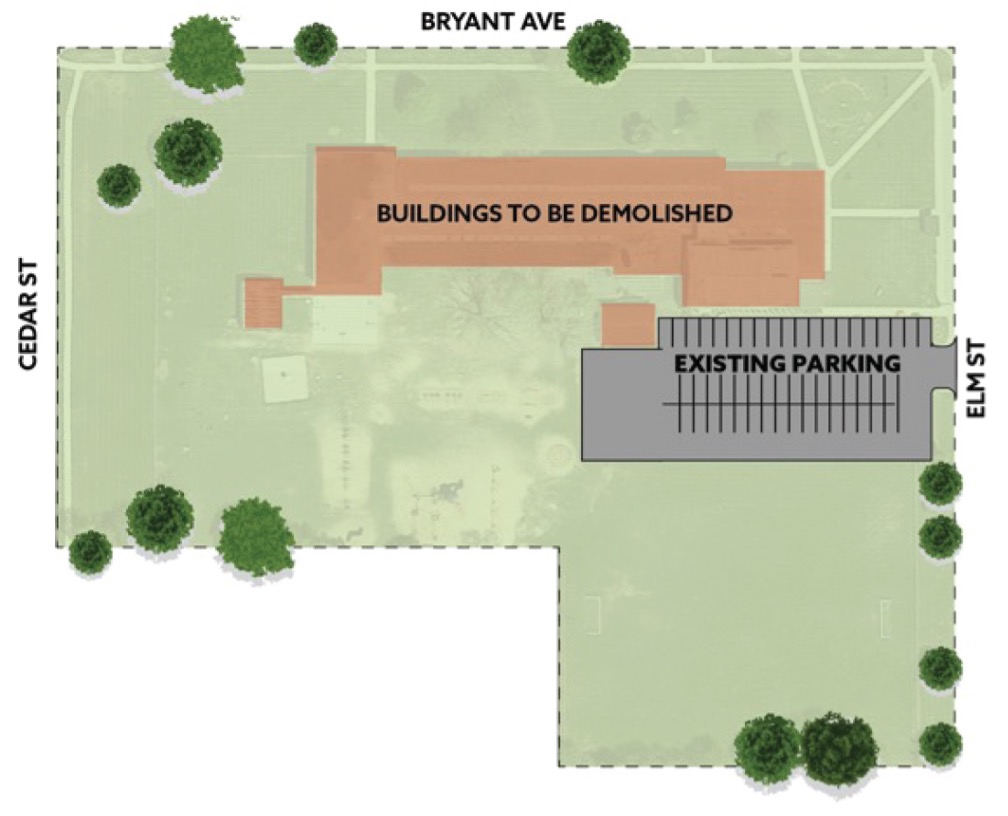 PROJECT INTRODUCTION
---
Manistee Area Public Schools (MAPS) is seeking proposals from qualified purchasers for the property located at 515 Bryant Avenue, Manistee, MI 49660 ("the property") for the purpose of developing the site following the required parameters indicated in this document. MAPS is in the process of implementing the scope of a 2021 bond project that includes the removal of the Jefferson Elementary building, anticipated in 2025, following consolidation to other district facilities.
DEVELOPMENT OPPORTUNITY
The property is located in an established neighborhood, which is connected to City of Manistee utility infrastructure. Potential financial assistance/development assistance programs may apply to the project – depending on proposed scope – that include but are not limited to the City of Manistee Brownfield Redevelopment Authority, as well as other incentives and grant opportunities.
In the spring of 2021, MAPS contracted Spicer Group to do a full survey of the property to determine boundary lines, any easements, and utilities. A copy of this report is available below.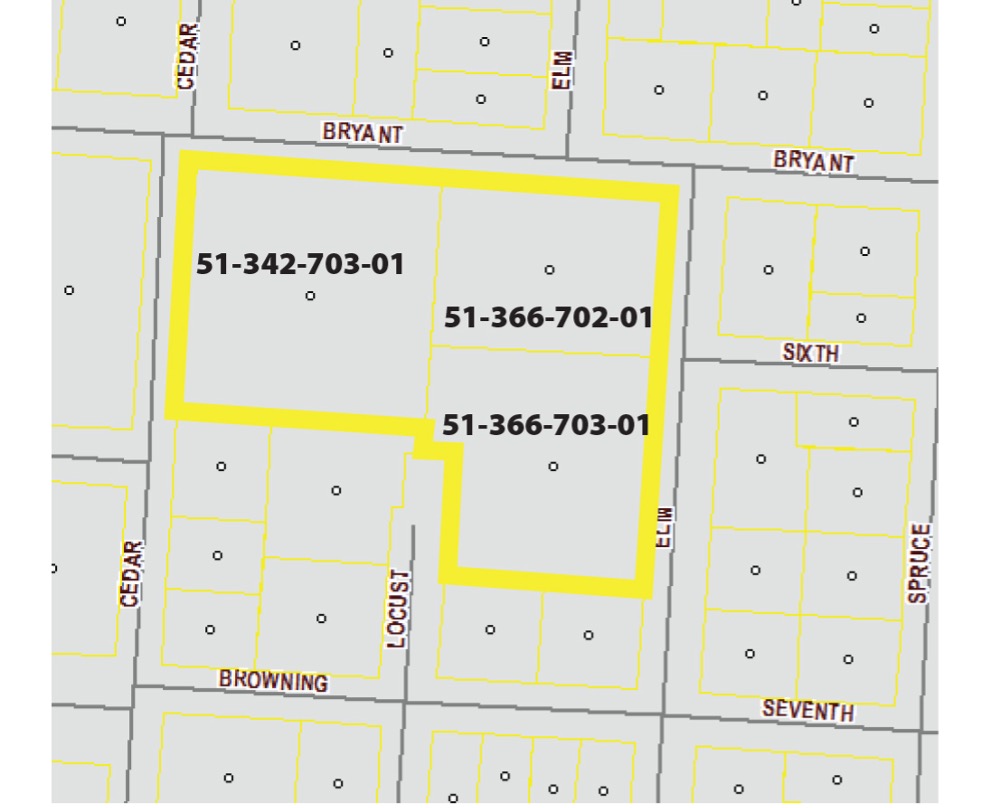 PROPERTY STATS
Parcel IDs: 51-342-703-01, 51-366-702-01 & 51-366-703-01
The property is approximately 5.15 acres
Zoned R-2 medium density residential
Following the removal of the building structure, slated for 2025, a paved parking lot will remain that is approximately 250' x 100'
The property is served by electric, water, sewer utilities
Technology access includes fiber, cable, DSL, and 5G wireless service
Manistee is a community with a growing demand for housing. In a July 2021, Housing North identified Manistee County as having a shortage of approximately 400 housing units to meet current demand.
PROPOSED SCHEDULE OF PROCESS
(subject to change)
---
2/13/23 – Property Q&A with MAPS administration & Spicer Group representative from 4:00 -6:00 pm.

3/6/23 – Deadline for RFP question submissions at 5:00 pm

3/13/23 – Deadline for question responses by 5:00 pm

5/1/23 – Proposal deadline at 5:00 pm

May 2023 – Proposal review period

6/14/23 – Recommendations of the Facilities Committee presented to Board of Education for consideration

July 2023 – Notice of award
ADDITIONAL INFORMATION AND FAQS
QUESTION FROM VIRTUAL RFP MEETING REQUESTING DATES AND COPY OF SURVEY
"I came into the meeting as something about a "survey" with specific dates was being shown on the screen. Please provide more information regarding that survey and dates along with from where the survey can be obtained."
The survey referenced in the presentation was a property survey completed by Spicer Group in May of 2021.
The Spicer Group survey can be viewed/printed from this LINK
During the meeting Shawn Middleton of the Spicer Group also offered that a CAD format survey can be made available by request. Requests can be sent to Howard Vaas, MAPS Business Manager at hvaas@manistee.org. 
PUBLIC FEEDBACK REGARDING PROJECT ELEMENTS
The MAPS Vision Plan (bond project) includes the removal of the Jefferson building and restoration of the land to level and open green space. The property will be available for development once the building removal, slated for spring of 2025, is complete. Having collected feedback through community forums and neighborhood committee meetings from 2018-2021, MAPS has identified a strong desire to maintain the character of the neighborhood. Artifacts from these meetings can be found at www.chipslead.org/vision-for-our-future/. The following ideas were generated through community feedback:
Practice fields
Tennis and/or pickleball courts
Park space
Walking paths
Learning garden
Single-family housing
Mixed-use potential
In interest of maintaining the character of the existing single family home environment with similar density of lot sizes, members of a neighborhood committee identified the following for the Jefferson property as proposed restrictions in excess of the R-2 zoning requirements:
10,000 sq. ft. lot size
80 ft. lot width
1,200 sq. ft. single family home size
Although these project elements are consistent with the aspirations of community participants, the purchaser is not required to incorporate all elements into a proposed project.
ABOUT THE MANISTEE COMMUNITY
Located on the northwest shore of beautiful Lake Michigan, Manistee, offers the privilege of calling a place home, that others only have the opportunity to visit on vacation. This charming coastal community, located 100 miles north of Grand Rapids and 60 miles south of Traverse City, features modern lifestyle amenities, stunning natural landscape, and diverse 4-season recreational attractions that rival any community found on the Lake Michigan shoreline.
Today's technology supports expansive options for working and living in locations that offer enhancements far beyond the boundaries of a busy urban city center. The City of Manistee, with a year-round population of approximately 6,200 residents, provides a stable environment for supporting rewarding professional opportunities in a family-friendly, accessible community. 
MANISTEE COUNTY STATS
Square Miles: 1,281
Population: 24,539
Workforce: 9,682
Household Income: $51,658
Households: 9,700
Average Range of Property Taxes: $800-$1,499
Median Home Value: $130,900
COMMUNITY FEATURES/AMENITIES
State recognized public and private K-12 schools offering a diverse range of extracurricular options
State-accredited West Shore Community College
Deep-water port capable of handling large freighters
Airport 3 miles from downtown Manistee
26 miles of sandy Lake Michigan shoreline
276 miles of rivers and streams perfect for paddling and fishing
World-class Lake Michigan fishing from three shoreline harbors
World-class golf
Local events and activities to capture the interest of people of all ages
Historic downtown district featuring boutique retail, local cuisine, and a world class, state of the art movie theatre
1000's of acres of public parks and nature preserves
100+ miles of snowshoeing & cross-country ski trails
300+ miles of connected multi-county snowmobiling trails
CONDITIONS OF PROPOSAL
Sealed proposals must be received for the Property at the District's Central Office on or before Monday, May 1, 2023 5:00 pm at 550 Maple Street, Manistee, Michigan 49660. Late submissions will not be accepted.
A certified or cashier's check in the amount of Ten Thousand 00/100 Dollars ($10,000.00) shall accompany any proposal and shall be forfeited as liquidated damages if said proposal is accepted and the purchaser fails to enter into the Purchase Agreement. The deposit amount will be credited to the purchase price at closing of the sale of the property to the successful proposal. The deposit amount will be returned to all unsuccessful purchasers within five (5) days from the date that the district has accepted a proposal for the property.
An inspection of the property, excluding the building, will take place on Monday, February 13, 2023, from 4:00 -5:00 pm with sit down discussion following from 5:00-6:00 pm.
The minimum proposal requirement for the property is Four Hundred Thousand and 00/100 Dollars ($400,000.00).
The Board of Education expressly reserves the right to reject any or all proposals and to accept the proposal that the Board of Education, at its sole discretion, determines best serves the interests of the district.
Developers must supply the following information (unless not applicable), to be used in determining which proposal best serves the interests of the district:
Entity's name, type, and LARA ID number
Entity's contact information, including registered office mailing address
Entity's incorporation information and other relevant filings or documentation
The names, positions, and contact information for members of the entity's governing board
Entity's financial statements, such as Form 990s and Audited Financial Statements
Entity's mission statement, business model, and current programs/projects
Statement of entity's connection to Manistee and/or the surrounding areas, including prior and current involvements or projects in the community
Entity's intended development plan for the property with tentative site plans
A detailed business plan for the property, including the intended market, financial projections, management team, marketing plans and goals, and potential gaps or obstacles
Proposed implementation schedule from acquisition to project completion
Any proposed property divisions
Anticipated project budget
Verification from sources of funding, including any loans, partnerships, sponsorships, grants, incentives, or other sources
Any parties and/or entities who will support or contribute to the development, construction, or improvement of the property
Submission of a proposal in response to this RFP is certification that the purchaser is not currently debarred, suspended, proposed for debarment, and declared ineligible or voluntarily excluded from participation in this transaction by any State or Federal departments or agency. Submission is also an agreement that MAPS will be notified of any changes in this status.
PROPOSAL SELECTION CRITERIA
Proposals will be evaluated on a combination of the following factors:
Project viability, including:
Price offered for the property
Benefits of the project to the greater community
Consistency of plan with City's Master Plan priorities
Project's alignment with zoning requirements and probability of variance approvals where required
Financing sources and lender commitment
Project implementation schedule
Adequacy of available financing and project incentives
Prior experience and success with similar projects
The Board of Education expressly reserves the right to reject any or all proposals and to accept the proposal that the Board of Education, at its sole discretion, determines best serves the interests of the district.
CONDITIONS OF SALE
MAPS and the selected developer will execute a separate Purchase Agreement. Significant alterations to the original proposal or noncompliance with the agreement or conditions of any funding sources may invalidate approval of the project.
The Property will be sold "as is" once the building has been removed from the site and the Purchaser shall indemnify, release and hold harmless the district from any liability with regard to the Property, including environmental contamination.
The Purchaser shall sign the Purchase Agreement within three (3) days from the date that the Purchaser is notified of the Purchaser's successful proposal.
If the Purchaser plans to use the Property for purposes other than those currently permitted in the Property's zoning district, the Purchaser shall have ninety (90) days from the time the proposal is accepted to obtain all relevant permits from the City, including without limitation, a special land use permit or approved rezoning petition.
The Purchaser shall be responsible for all costs incurred at the closing.